The benefits of using 1 mm Foamex panels for signs
25 July 2017
Let's remind ourselves what Foamex is:
It is a PVC foam sheet material that is rigid and robust – the word "foam" is something of a misnomer really as it suggests a soft or spongy material, which couldn't be further from the truth.  The beauty of the material is that it is easy to cut, drill and glue, and can in many ways be treated as if it were a solid acrylic sheet.
Foamex I has good mechanical and insulation properties and excellent chemical resistance with low water absorption, and comes in a wide range of colours.  It can tolerate temperatures between -10 and + 55 °C (which just about covers the UK temperature range most of the time).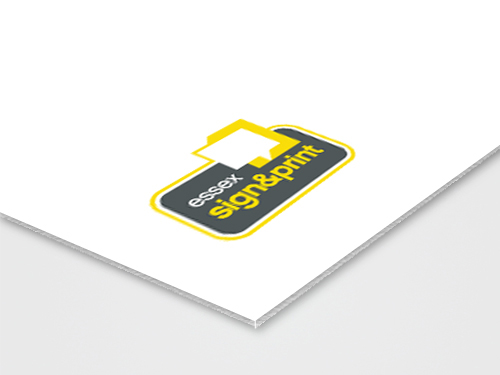 Foamex can be supplied in a range of sizes including 1mm, 2mm, 3mm and 5mm. With 1mm Foamex panels being the cheapest, whilst still producing a great look and finish. In terms of the resolution, it is high quality 1440 dpi (dots per inch) print, and there are various buying options too:
the signs can be printed double or single sided
the finish can be gloss or matt (or not laminated)
the signs can be up to 3 metres wide and 1.22 metres high
Why Use 1mm Foamex For Signs?
We've already mentioned that it's easy to cut, drill and glue
It's also easy to bend and shape, making it extremely flexible in its uses
Foamex is extremely durable, with a life expectancy typically around 7 years
Foamex panels are both water repellent and waterproof, so it's an excellent material for outdoor use.
It's also lightweight, so it's portable and easy to move around. Good news if you're advertising at an event or show!
Foamex is easy to secure to walls and stands etc. with simple adhesives – making them visible – and easy to detach too.
Due to its smooth finish the printing quality of text, images or graphics is excellent.
Foamex offers excellent value for money – especially when you take into consideration its durability.
It's also re-cyclable – so when it does finally come to the end of its life, you're saving the planet too!
Really, as we've said it's hard to think of any material more suitable for signs.  Come and talk to us about how we can use it to boost your company's visibility and grow your order book!
---
Here at Essex Sign & Print
Essex Sign & Print is an independent limited company based in Billericay in Essex.  We've been established for over eight years now, and already have numerous satisfied customers of all sizes and types.
We pride ourselves on the quality of our products, our excellent customer service, and the value for money that we provide.
Our mottos is "Small enough to care.  Big enough to cope".  We love what we do, and we're good at it.  We're flexible too – we're always ready to help out if your requirements are unusual or if you're in a hurry.
We supply a wide range of print products, specialising in wide format printing.  To find out more about our Foamex boards, try the following link
And if you would like further information on our company then please visit our home page or go directly to our contact page when we will respond as quickly as possible. As always we'll be delighted to help and advise you.